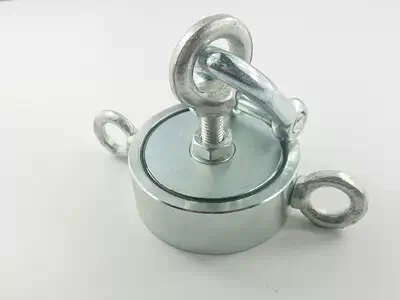 Neodymium magnets for fishing in water
become an explorer of magnetic treasures
Effective holders for retrieving underwater with neodymium magnets - powerful magnets with a holder (magnets for searching below the water surface) are mainly used for searching different types of metal objects in less accessible places. Such holders have a sealed enclosure that ensures the magnet won't lose its magnetic properties and won't get damaged while during fishing. Magnets made of neodymium are widely used when searching in water bodies for various metal objects. Thanks to their magnetic characteristics, these holders are highly suitable for operating in challenging weather conditions. The powerful magnetic force allows them to be used for searching for meteorites as well, especially with larger-sized magnetic holders equipped with extremely strong neodymium magnets.|Invaluable and proven magnetic holders for different types of searches, featuring powerful magnets made of neodymium, are primarily used as magnetic holders for scouring the bottoms of lakes, ponds, and rivers, but they are also used in hard-to-reach places where searching for various missing elements is important. These holders come with a tightly sealed enclosure that protects the magnet surface from mechanical damage and prevents water from causing corrosive changes and serious damage to the neodymium magnet, thus preserving its magnetic properties. The neodymium magnet used in magnetic holders has a wide range of applications during exploration of rivers and lakes, for transporting and lifting rather diverse metal items that are susceptible to magnetic effects.}
Still undecided? Call and inquire +48 22 499 98 98
Read more on the blog Which magnet to choose for beginners? and why with 3 arms instead of one ineffective lateral arm? Which magnet to choose for searching?
What magnet for treasure hunting?
When it comes to choosing the right magnet for treasure hunting, there are several important factors to consider. UMP 75x25 [M10x3] GW F200 GOLD plus rope and UMP 94x28 [3xM10] GW F300 plus rope are the two most popular treasure hunting magnets on the market, and for good reason. Both of these magnets have many features that make them an ideal choice for various search and rescue operations.

UMP 75x25 [M10x3] GW F200 GOLD rope is a lightweight and compact magnet for treasure hunting, characterized by a sturdy construction and a durable housing that can withstand intense field use. It has a powerful field intensity of ~7500 Gauss (G), making it well-suited for use in various challenging conditions. Additionally, the magnet features a large working area and a strong pulling force of ~290 kg, making it an excellent choice for deep searches.

UMP 94x28 [3xM10] GW F300 with rope is an even stronger version of UMP 75x25 [M10x3] GW F200 GOLD with rope. It has a higher field intensity of ~9000 Gauss, which allows it to work in extreme conditions. The magnet also has a slightly larger working area, a more powerful pulling force of ~360 kg, and a durable body designed to withstand the toughest conditions.

Both UMP 75x25 [M10x3] GW F200 GOLD with rope and UMP 94x28 [3xM10] GW F300 with rope are excellent choices for searching and retrieving magnetic objects from water. They are lightweight (improved from the previous version), compact, and strong, making them ideal for use in various challenging conditions. Furthermore, our treasure hunting magnets have ears on both sides, allowing them to be paired together, effectively combining their pulling forces. Whether you're conducting deep or shallow searches, each of these treasure hunting magnets will surely provide you with the power and performance you need to achieve success.
What interesting things will you retrieve from the mysterious waters of rivers, ponds, lakes, or streams today? Prepare for a magnetic hunt and experience the adventure of a treasure hunter. Get super strong fishing magnets with a magnetic force ranging from 120 to as high as 1100 kg - (F120 - F600). To extract the found treasure, pack a sturdy rope with a carrying capacity of up to 1593 kg, gloves, and a large bag.
Subcategories:
---