What do you need to do to order custom magnets?
Unique magnet
In our offer, we have a service of manufacturing neodymium magnets to order.
Here you will learn what conditions you need to meet to order such a magnet - but first, we need to assess what you need?
We can make neodymium magnets:
in the form of a cuboid, cube, cylinder, circle, ball, arc, or more complex shapes,
with dimensions from 0.6 to 200 mm,
magnetized in the direction of thickness, width, length, diameter, or with more complex multipolar magnetization - (see technology),
magnets with a hole for a screw, with a sticker, with a hook or an eyelet,
with surface treatment: nickel, zinc, chromium, gold, epoxy resin, rubber, plastic, or without surface treatment,
with a thermal resistance of up to 240°C for neo NdFeB magnets (for SmCo magnets 350°C and AlNiCo magnets up to 550°C),
with marking of the north pole with a line, red dot, laser engraving, or without marking,
with a pull force from 0.05 kg to 5000 kg,
made from N27 to N55 materials (we offer from N38 upwards - if you need N24, our competition has it)...
In addition to neodymium magnets, we can also produce AlNiCo magnets, SmCo magnets, and ferrite magnets.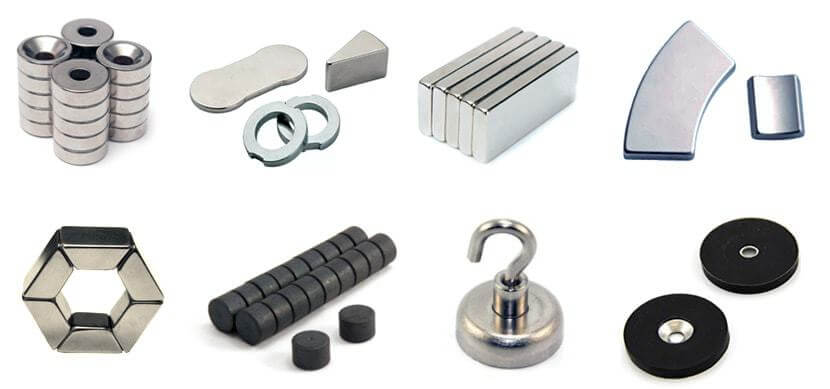 Before you send us your inquiry and request for a quote and offer, write down all the information about your idea, project, and the quantity of magnets you need to fulfill the order. Specify the goal, purpose, and quality of the materials you want us to use when creating your project. It is very important that at the initial planning stage, your project is described as accurately as possible.
Using our order form, on the website https://info.dhit.pl located on our website, send us all the necessary information. Remember that the more guidelines and accurate data you provide, the more precisely we will be able to estimate your project and send you an optimal offer to minimize the costs of production and transport. When sending us an inquiry, remember to provide the most important information, namely:
Type of magnet (cylindrical, plate, ring, other),
Size (expressed in millimeters),
Specify the material density from which the magnet should be made (standardly, it is N 38),
Specify the working temperature of the magnet (standardly, it is 80°C),
Specify the type of coating the magnets should be covered with (standardly, it is nickel coating),
Specify the quantity of magnets,
Attach a technical drawing.
The accuracy of your inquiry and the materials sent by you will allow us to respond as quickly as possible and create a unique offer for you.
Your order that you send us will be processed. Simply put, we will sit down with our specialists and carefully analyze your project to determine what materials we should use to implement it, what types of manufacturing processes will be involved, and how much time we will need to produce the required quantity of your order. And most importantly, we will determine the final price of a single product and the entire batch of the order that is most important to you. This may take a while, so we will keep you informed about the progress of your project. Usually, you will receive an offer from us no later than 3 days from the date of submitting the inquiry.
Once we have completed a thorough analysis and cost estimate, we will send you a detailed offer with all the necessary data, execution specifications, and price. If we finalize the details and our offer is a perfect match, your order will be fulfilled! The production time depends on the workload and takes from 25 to 35 days.
Your project and order will be thoroughly checked for correctness of execution and tightly and precisely packed to ensure that your products are safe and will not be damaged during transportation. We ensure that all orders are delivered to our Customers in intact packaging. Within 2-3 business days from the date of packing the products, you will receive your order at the specified home or company address.
We believe that everyone is an expert in their field, so we have also prepared individual project packages for each Client, thanks to which we are able to design and build any order and create any shape and size with high magnetic power for our Clients.
| Produkty standardowe | Średnica zewnętrzna D, OD | ID średnicy wewnętrznej | Długość L | Szerokość W | Wysokość H |
| --- | --- | --- | --- | --- | --- |
| < 5mm | ±0.1mm | ±0.1mm | ±0.1mm | ±0.1mm | ±0.1mm |
| < 10mm | ±0.1mm | ±0.1mm | ±0.1mm | ±0.1mm | ±0.1mm |
| < 20mm | ±0.1mm | ±0.1mm | ±0.1mm | ±0.1mm | ±0.1mm |
| < 50mm | ±0.1mm | ±0.1mm | ±0.1mm | ±0.1mm | ±0.1mm |
| <100mm | ±0.15mm | ±0.15mm | ±0.15mm | ±0.15mm | ±0.15mm |
| >100mm | ±0.2mm | ±0.2mm | ±0.2mm | ±0.2mm | ±0.2mm |
| Produkty na zamówienie | Średnica zewnętrzna D, OD | ID średnicy wewnętrznej | Długość L | Szerokość W | Wysokość H |
| --- | --- | --- | --- | --- | --- |
| < 5mm | ±0.05mm | ±0.05mm | ±0.05mm | ±0.05mm | ±0.05mm |
| < 10mm | ±0.05mm | ±0.05mm | ±0.05mm | ±0.05mm | ±0.05mm |
| < 20mm | ±0.05mm | ±0.05mm | ±0.05mm | ±0.05mm | ±0.05mm |
Sizes that can be made for neodymium magnets
The sizes that can be made depend on the material grade. Currently, the maximum length possible is 150 mm. Due to the limitations of the object, it may not be possible to produce large objects from materials other than N35.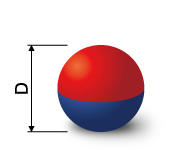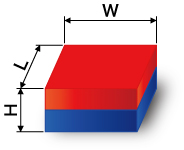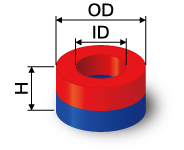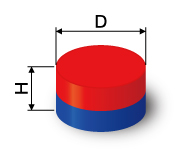 | Dyski / Walce | D Średnica | Wysokość H, Grubość T | Kierunek namagnesowania |
| --- | --- | --- | --- |
| Maksymalnie | 200 mm | 30 mm | Wysokość H, średnica D |
| Minimum | 1 mm | 0,5 mm | Wysokość H, średnica D |
| Pierścienie | OD Zewnętrzna średnica | ID Średnica wewnętrzna | Wysokość H, Grubość T | Kierunek namagnesowania |
| --- | --- | --- | --- | --- |
| Minimum 1 | 200 mm | 180 mm | 40 mm | Wysokość H |
| Maksymalnie 2 | 90 mm | 70 mm | 80 mm | Średnica D |
| Minimum | 3 mm | 1 mm | 1 mm | Wysokość H, średnica D |
| Kwadraty | Długość L | Szerokość W | Wysokość H, Grubość T | Kierunek namagnesowania |
| --- | --- | --- | --- | --- |
| Maksymalny wymiar 1 | 245 mm | 80 mm | 40 mm | Wysokość H |
| Maksymalny wymiar 2 | 150 mm | 100 mm | 44 mm | Wysokość H |
| Minimum | 1 mm | 1 mm | 1 mm | Wysokość H |
Apart from non-standard magnets, including neodymium, we also have: