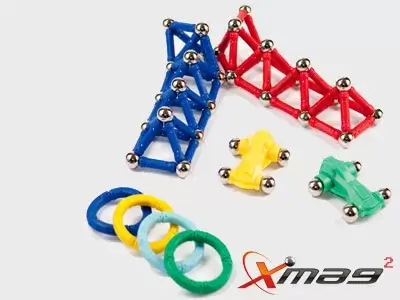 Toys series XMAG²
magnetic blocks
Magnets neodymium in spite of many applications, are also used for good fun. They enjoy great popularity for instance extraordinary magnetic toys from the XMAG² series - compatible with Geomag, which stimulate creative abilities and thinking and imagination in children and adults. Thanks to the use of magnets neodymium in them, it is possible to construct huge things. The toy itself has a simple design - it consists of a little ball and a rod with two magnets.

Another popular toy of this type is the magnetic balls NeoBall also known in Poland as Neocube.
A normal set consists of 216 neodymium balls with a diameter of 5 millimeters, coated with a nickel layer or any other protective coating to limit their wear.

Schools teach a little bit of everything, and society has less and less contact with sports and entertainment for the mind. Everything is handed to us on a platter with instructions, sometimes even in pictorial form, which discourages anyone from even trying to think...
How to come up with ideas here?
The construction toy is intelligent enough to be a source of knowledge due to the use of neodymium magnets. Thanks to the variety of elements, you can create unique and one-of-a-kind structures, vehicles, animals, etc. Only your imagination limits you.
The set consists mainly of multicolored sticks (27mm) and steel balls (12.7mm).
It is worth mentioning that the strength of the neodymium magnets in the sticks is optimized so that children can easily build, construct, connect, disconnect, etc., andmost importantly,the structures do not fall apart.
| | |
| --- | --- |
| XMAG² | |
| stick size | 27mm (same as GEOMAG) |
| stick can hold | one stick = 10 balls | two sticks = 17 balls |
| panels | |
| glow in the dark | |
| colorful sticks | |
| curved sticks | |
| steel balls | |
Additional Sets
XMAG² 105
60 sticks in six colors
45 nickel-plated balls with a diameter of 12.7mm
foil bags

Set of 105 elements
XMAG² 210
120 sticks in six colors
90 nickel-plated balls with a diameter of 12.7mm
foil bags

Set of 105 elements x 2
Why is XMAG better than competing products?
The price of XMAG is significantly lower than the price of competing products.
The packaging of XMAG is much more durable than competing products.
The magnetic field in XMAG sticks is very strong because the sticks are made of metal cones with neodymium magnets - 10 times stronger than ferrite magnets.
XMAG balls are nickel-plated, not just painted, so the paint doesn't chip off.
XMAG sticks come in six different colors.
Bendable sticks allow building, for example, an elephant's trunk.
Gray sticks are fluorescent, i.e., they glow in the dark.
The quality meets international standards.
red
orange
yellow
pink
green
blue
Subcategories:
---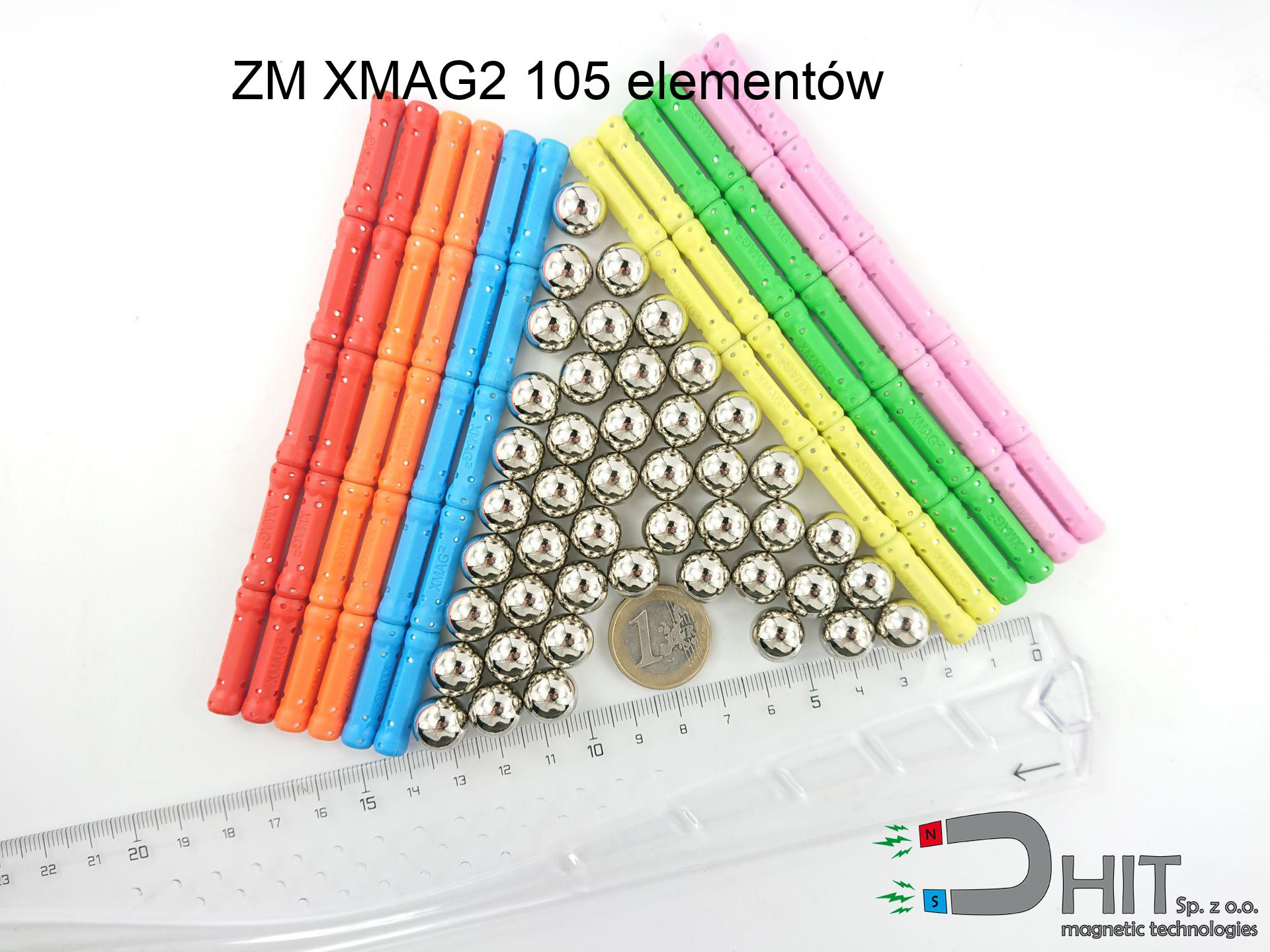 Product available
shipping tomorrow!
49.20 PLN with VAT gross price / pcs
40.00 PLN net price + 23% VAT / pcs
---
price from 1 pcs
40.00 PLN
49.20 PLN
price from 12 pcs
38.00 PLN
46.74 PLN
price from 24 pcs
36.00 PLN
44.28 PLN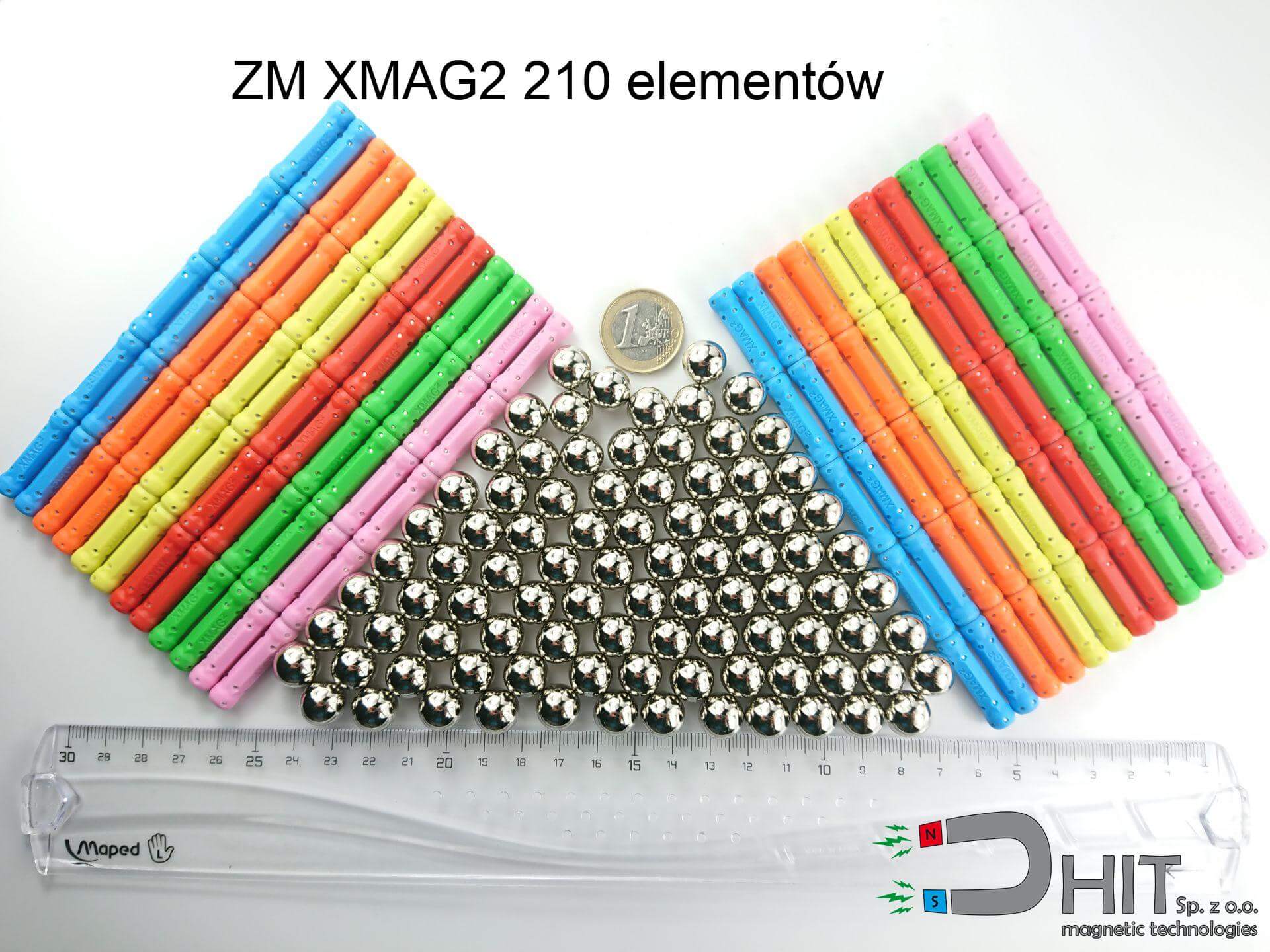 Product available
shipping tomorrow!
86.10 PLN with VAT gross price / pcs
70.00 PLN net price + 23% VAT / pcs
---
price from 1 pcs
70.00 PLN
86.10 PLN
price from 7 pcs
66.50 PLN
81.80 PLN
price from 14 pcs
63.00 PLN
77.49 PLN