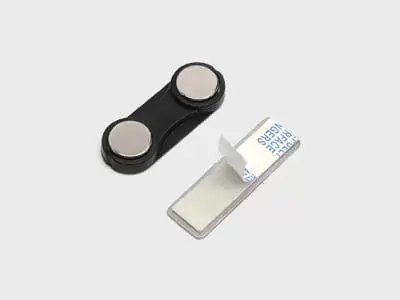 Magnets for badges
fastenings for buttons
For an ID badge to be effective, it must somehow be hung on clothing, usually using a safety pin or some sort of clamp with teeth. This common fastener often causes trouble due to the damage it inflicts on our clothes. But modern technology has us covered, and stress-free use of ID badges is possible. The modern method of attaching an ID badge is a magnetic clip based on neodymium magnets.
This type of clip always consists of two separate parts:
Part 1 with magnets - these are 2-3 neodymium magnets firmly attached to the ID badge.
Part 2 - is a prepared plate pattern, effectively attracted by the magnets mounted on the ID badge, thus creating a firm attachment to a blouse or shirt.
The mounting of such a clip to the ID badge is very simple. It's enough to bring the magnets close to the plate on both sides of the shirt, this way, the ID badge will hold firmly without the risk of losing it. In our badges, we have used such strong magnets that they can safely be attached to jackets and coats.
NOTE! We do not recommend the use of such badges for users with a pacemaker, due to the fact that the magnets can cause disturbances in the device's operation.
Subcategories:
---