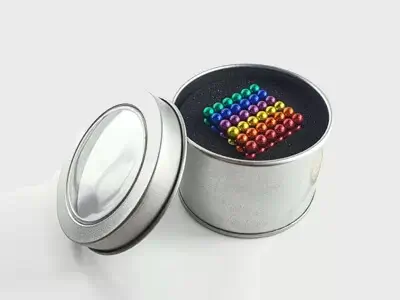 Neocube magnetic balls
neocube neodymium balls
are known in many countries. Made using strong neodymium magnets, the magnetic balls "NeoCube" are a logical toy with millions of different combinations, which will surely never get boring. NeoCube is one of the simplest, yet most engaging toys for children. In its original form and the ability to construct various shapes and forms. NeoCube is a magnetic toy designed not only for children but also for their parents.

ATTENTION!
Due to the risk of accidental swallowing of small balls, this product is recommended for slightly older children aged 6 and above. |All our sets contain a total of exactly 216 magnetic balls, which are packed in the form of a small cube with 6 balls on each side. These magnetic balls are, in fact, very strong neodymium magnets, the strongest magnets available in the world. They strongly attract and hold their shape perfectly. This allows for the construction of amazing shapes and forms, and even objects like bracelets or pendants. Today, there are many different versions of "NeoCube" magnetic balls, available in a wide range of colors, and you can even find a fluorescent variety that glows in the dark. The choice of the best set depends on personal preferences|individual needs|expectations and preferences|individual preferences}.
Magnetic balls allow for creating different flat and spatial objects. With all these advantages, nothing will limit you anymore!

ATTENTION!
Due to the risk of swallowing of tiny parts, this product is recommended for slightly older children who are at least 6 years old.
Magnetic balls NeoCube are a perfect way to relax and relieve stress. They are made of the strongest neodymium magnets, allowing for the creation of incredibly complex structures. They are available in various colors, which allows for even more creativity. NeoCube can be used as an educational toy or an artistic tool. The possibilities are limitless, which is why many people consider them an addictive toy. However, it is important to remember that magnetic balls NeoCube are dangerous for children as they can swallow the balls and require surgery. Therefore, NeoCube should be stored in a place inaccessible to children, and only adults should use them.
Subcategories:
---